A warm, cosy, relaxed, and rustic restaurant, and THE place to come at any time of the day for breakfast, lunch, dinner, or even just a quick drink and a snack.
The restaurant has stunning features which have been uncovered to show the history of the building; expect original oak beams, exposed brick walls, and traditional fireplaces.  During the daytime, Galtres Lodge is a lovely and relaxed place to enjoy breakfast, lunch, home-made cakes, daily freshly baked scones, or even our "forest" afternoon tea which has to be seen to be believed – the most exciting afternoon tea in York (if not beyond)!   In the evening, the lights go down and the music goes up, and our a la carte menu comes in to its own – favourite dishes include the "Whole Yorkshire Hog" starter and the "Rack Of Local Lamb" main course, but there is something for everyone on this menu. All our menus include freshly cooked homely meals, using as many local ingredients as possible - including fish and meat from the Shambles Market (just a few steps away). 
Proudly housed within Galtres Lodge Hotel, the name FOREST comes from our history, with the word Galtres originating from an ancient forest:  The Royal Forest of Galtres was established by the Norman kings of England, and once extended to the York city walls.  
Evening Menu
Daily 5pm - 9pm
A lovely menu of classic British ingredients, bursting with dishes that showcase our chefs' finesse!  Meat is sourced from Swains Family Butcher, and Fish from Cross Of York Fishmonger, both on the Shambles Market round the corner.

Daytime Menu
Daily 12pm - 3pm
An eclectic mix of all of our favourites.  All the options from our evening menu, plus sandwiches, snacks, and lite bites. Our "market mains" include all the classics; fish & chips, steak & ale Yorkshire pudding pie, fish pie, and a delicious burger!
Afternoon Tea Menu
Daily 2pm - 5pm
PRE-BOOKING REQUIRED. With inspiration from our history & created a "Forest Afternoon Tea" - complete with carefully paired teas with each course, this is the most exciting Afternoon Tea in York (if not beyond!).
Vegetarian & Vegan Dishes
12pm - 3pm & 5pm - 9pm
An easy summary of our vegetarian and vegan dishes all in one place.  Our Beetroot & Chick Pea Bombe with Gooey Vegan Cheese Centre is yummy, as are the Spicy Cauliflower Buffalo Wings.  For pud we have Northern Bloc Vegan Peanut Chip!
Breakfast
8am-11.30am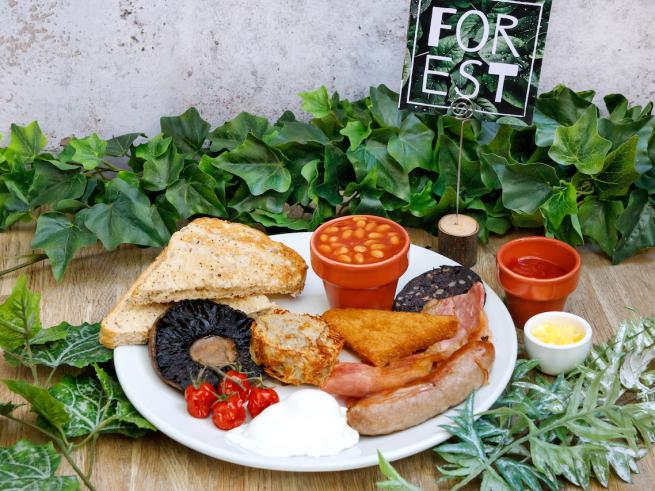 We think that our breakfasts are awesome!  There is plenty of choice from a "Full Yorkshire Breakfast" to a "Gardener's Breakfast" (veggie option), or granola, porridge, kippers, forester's mushrooms, and loads more!
Star Grazing
In The Secret Garden
Our Secret Garden is the perfect setting for a night out with a difference.  Wrap up warm; get cosy under the heaters in our Secret Garden, and graze through the evening as we bring you a selection of warming dishes and drinks to enjoy. To book Call or Email! 
If you have an allergy, or any questions about the menu, please ask a member of staff.